Dave is a Blue and White Panda who loves bananas. He is always the one who falls asleep first. He also loves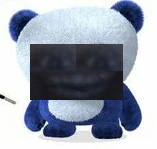 going on adventures. He is voiced by Austin N. Chase and Jonathan 'Jonno' Millar in the UK.
"I just got a blue panda idea"
"Bananas, bananas, Dave loves a banana!"